Friday is a stoner comedy film franchise that explores various events happening in the life of Craig, his family, and his best friend, Smokey. Here is the list of all Friday movies in order of release
Friday (1995)
Next Friday (2000)
Friday After Next (2002)
Cancelled Fourth film titled Last Friday
About Friday Movie Series
Written by Ice Cube(one of the most influential rappers of all time) and DJ Pooh, Friday is a comedy franchise that tells the story of different events happening in Craig's life (played by Ice Cube) on Friday.
The franchise started in 1995 with its first installment, "Friday," which was a huge hit.
Friday movies worth a repeated watch without getting bored. A perfect recommendation is you are looking for some comedy to make your mood.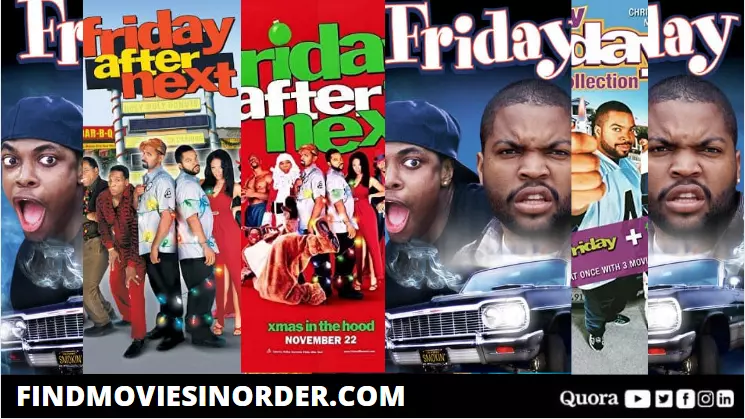 Friday Movies In Order: What order do the Friday movies go in?
Friday series tells the story of a day in Craig and his family and friends in South Central life. The first movie introduces you to the character and tells the story after Craig is fired from his job. Later two sequels are based on the life of Craig with his cousin and uncle.
Are Friday Movies Connected?
Yes! all Friday movies are connected and are based on the events that happen in the previous film. Every movie continues Craig's story, a South Central guy after the event in the last movie.
Do you need to watch Friday Movies in order?
All the Friday movies are connected but have their plot. Hence you can watch Friday movies as standalone but watching them in order is recommended because this will help you to understand the life of Craig and will add to your viewing experience.
What order do the Friday movies go in?
The Friday series doesn't have any prequels or jumps; hence, watching Friday movies is straightforward. All you have to do is to watch them in order of release. Here is the list of all Friday movies in order of release
Friday (1995)
Director: F. Gary Gray
Writers: Ice Cube, DJ Pooh
Stars: Ice Cube, Chris Tucker, Nia Long
Runtime: 1h 31min
Next Friday (2000)
Director: Steve Carr
Writers: Ice Cube DJ Pooh
Stars: Ice Cube, Mike Epps, Justin Pierce
Runtime: 1h 38min
Friday After Next (2002)
Director: Marcus Raboy
Writers: Ice Cube, DJ Pooh
Stars: Ice Cube, Mike Epps, John Witherspoon
Runtime: 1h 25min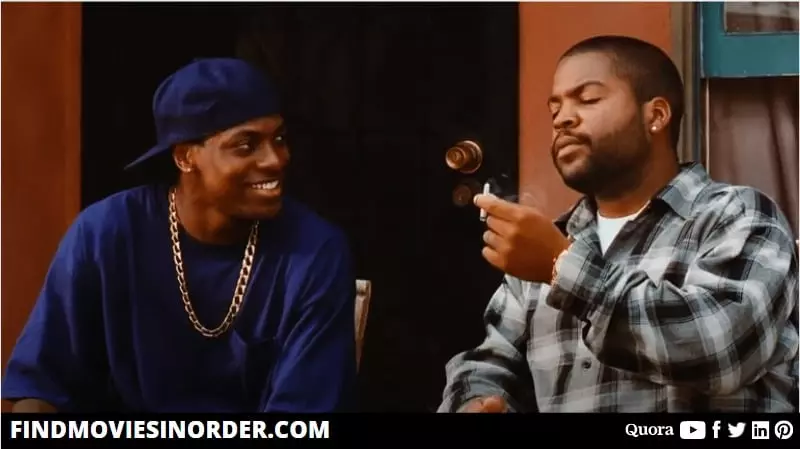 Friday (1995)
Craig has recently been fired because he was caught on camera trying to steal cardboard boxes from UPS. After the incident, Craig is sitting inside his house and figuring out what to do next. Smokey calls Craig to smoke weed to help his friend and make his mood alright and spend some time together.
When drug dealer Big Worm learns that Smokey has smoked all the weed, he is supposed to sell, and Dig Worm tells Smokey that he wants his money back, or else they both will not be able to see next Saturday.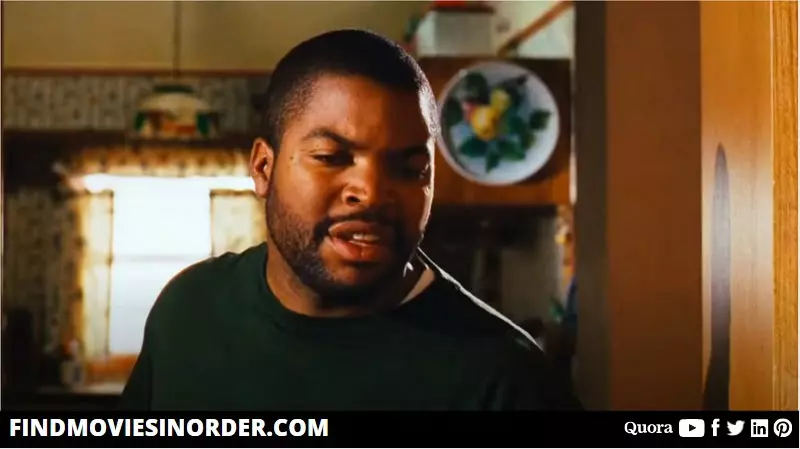 Next Friday (2000)
After the events in the first film, Craig's father decides to move Craig to Rancho Cucamonga for his safety. Day-Day introduces Craig to his Korean neighbor, Mrs. Ho-Kim, and explains their financial problems.
Day-Day further learns that their house could be repossessed.
Learning about the condition of his Uncle and his Causion, Craig decides to figure out a way to help them. Craig further knows about drug money hidden in a pipe kept in Joker's room. Craig teams up with Day-Day and Roach, and together they make a plan to steal the money!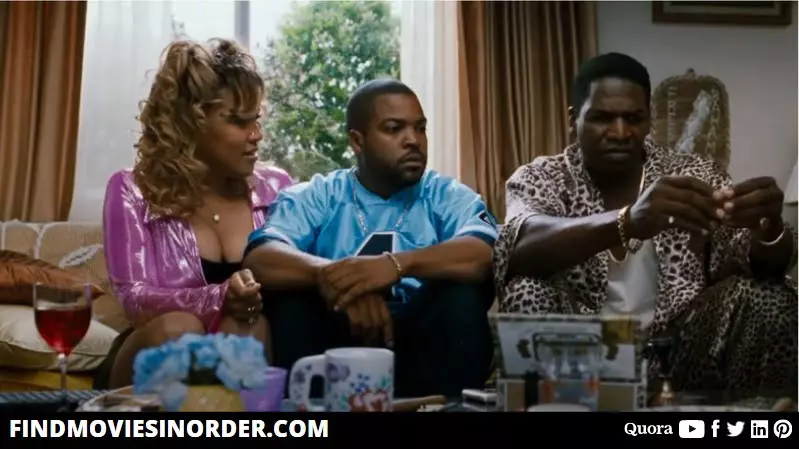 Friday After Next (2002)
Craig and Day-Day are robbed by a fake Santa who steals their Christmas presents and rent money on Christmas Eve. The next day, Mrs. Pearly warns both of them that she will evict them if they don't pay the rent money.
To earn money, Craig and Day-Day start to work as "Top Flight Security Guard," but both of them are fired when their boss Molly gets beaten up while they were on a lunch break. To arrange money for their rent, both of them decide to throw a rent party.
Complete Friday Franchise: Movies & Animation Series
In Addition to three full-length movies, Craig Jones's life, Kevin Lofton directed an animation series that has eight episodes and explores Craig, his family, and his best friend, Smokey. If you want to add the animation series to your Friday movie watch order, then here is the list of all Friday movies and series in order of release
Friday (1995)
Next Friday (2000)
Friday After Next (2002)
Cancelled Fourth film titled Last Friday
Friday: The Animated Series (2007)
Are they making a 4th Friday movie?
On April 29, 2019, Ice Cube stated that the fourth Installment might release in 2020, but after John Witherspoon's death, the project was completely shut. On December 20, 2020, Clifton Powell said that there are still hopes for the fourth Installment as a tribute to John Witherspoon and Tommy Lister Jr.
Which Friday Movie Is Best?
Friday movies are one of the comedy epics that made the audience laugh out loud. The series has many side characters that add their style of Humor to the series. But, which Friday movie is loved by the audience the most? Here I have ranked all Friday movies from worst to best based on Audience ratings on IMDb.
| Friday Movies | Ratings on IMDb |
| --- | --- |
| Friday After Next (2002) | 5.8/10 |
| Next Friday (2000) | 6.2/10 |
| Friday (1995) | 7.3/10 |
| | |
Other Comedy Franchises To Binge Watch
Conclusion
Starting in 1995, the Friday movie series is one of the best comedy series written by famous Rapper, Actor, and Screen Writer, Ice Cube.
The series has three movies and an animation series, and here in this article, I have provided an all you need to know guide about the Friday Series and a list of all Friday movies to Watch.